Fiat 1100 "Fire Engine" Steel: $49.95; Teflon bladed $179.95

Fiat 1608 -- dual scraper with center interior baffle set: $89.95
The second scraper blade operates on the downstroke in the shallow portion of the pan and diverts the scavenged oil to the pan wall.
Also available in Teflon®: $219.95
----------------------------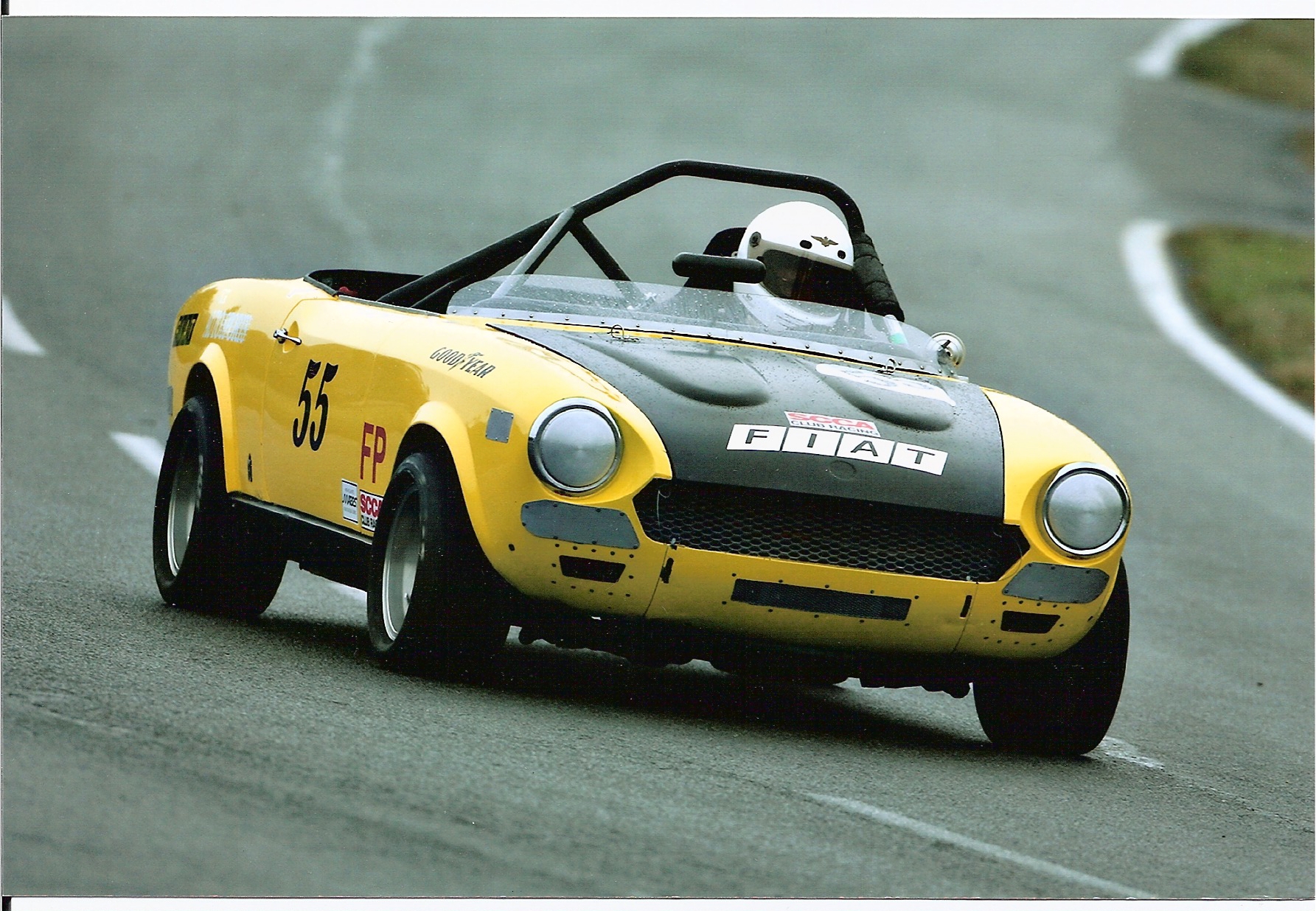 Congratulations to Steve Cole on winning the 2006 CVAR B Sedan Championship in his Fiat 124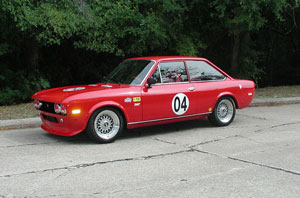 Congratulations to Werner Fessl/Wolfgang Artacker , 2013 winners of the famous Ennstal-Classic with a 124 Abarth Group 4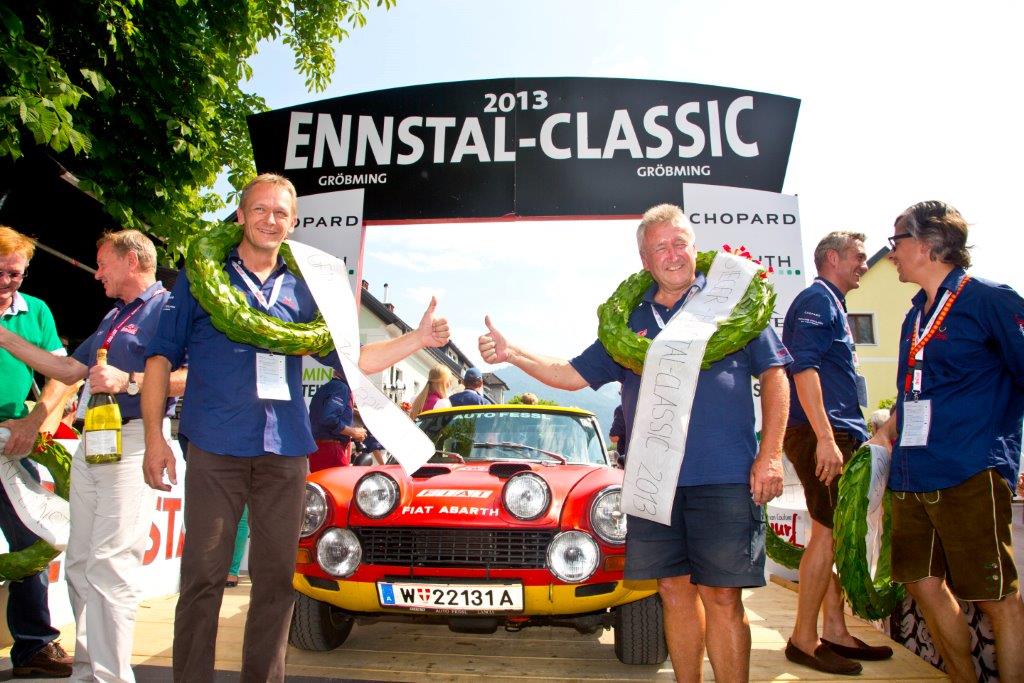 Fiat Abarth 131 with Ishihara-Johnson crank scraper installed below: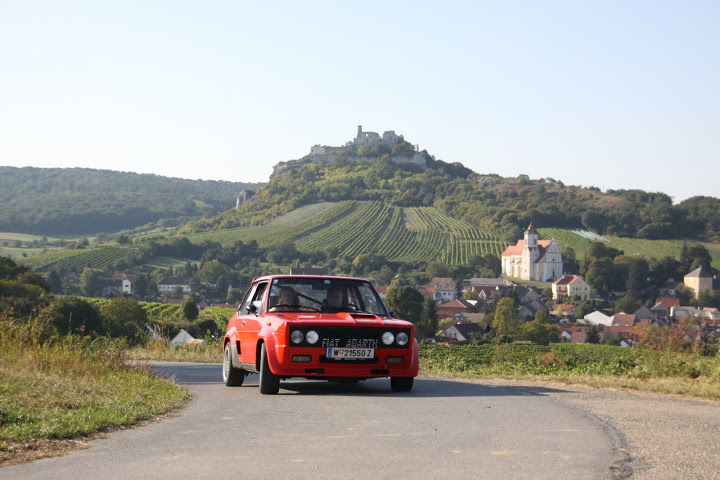 Fiat 1800 standard steel dual scraper and center baffle (see pic of 2000 below for general appearance) -- $89.95
Fiat 1800 Teflon® with dual scraper and center baffle -- $219.95
Note: there are 1800 blocks with the same oil pan rail pattern as the 2000 below; early blocks have straight rails like the 1608.
Fiat 2000 standard steel dual scraper and center baffle -- $89.95
Fiat 2000 Teflon® with dual scraper and center baffle -- $219.95
~~~~~~~~~~~~~~~~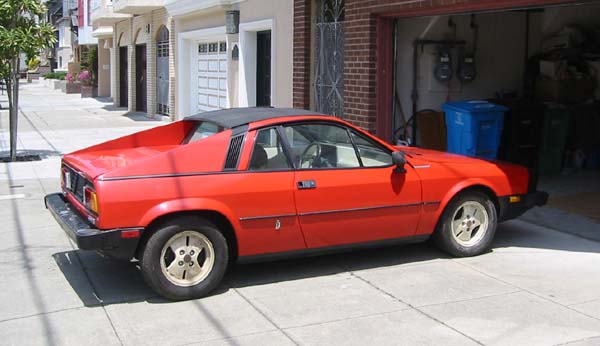 Windage tray and scraper combo is available only for Fiat 1.8 and 2.0 engines in the Lancia Scorpion and Montecarlo. The pan and pickup (see pic below) in the tranverse mounted engine are unique to the vehicle. The directional screening tray sits just over the stock tray and helps prevent oil from splashing off the smooth surface back into the path of the rotating assembly. It also shields oil flowing on the surface of the stock tray from the aerating effects of high speed droplets and other windage forces. By mounting to the block the directional screening covers a larger percentage of the pan opening, including the area relieved to allow for the oil pump pickup to insert into the pan. As with the other Fiat designs, baffles are used to help isolate each piston bay so as to inhibit the travel of windage along the rotating assembly. Add $199.95 to the price of either the steel or Teflon® scrapers below -- remember that you absolutely need the scraper to mount the windage tray.
Many thanks to the Fiat community for coming together to supply the short blocks needed to develop these patterns!