Copyright 2002-2022 © All rights are reserved on our product designs.
Steel scraper ($89.95); Teflon bladed scraper ($219.95). These scrapers are ideal for the VE versions of the motor which have a wide block and no girdle. The scraper mounts between the girdle and caps or simply on the caps in the VE type. There are fully and partially counterweighted versions as well as designs for knife-edged cranks and stroked cranks (92mm, for example).

Steel scraper for wide block (fully counterweighted crankshaft version shown)

Partially counterweighted VE version

Partially counterweighted Teflon bladed version for a narrow block with or without girdle (What is a narrow block? -- see below)

Above scraper with girdle shown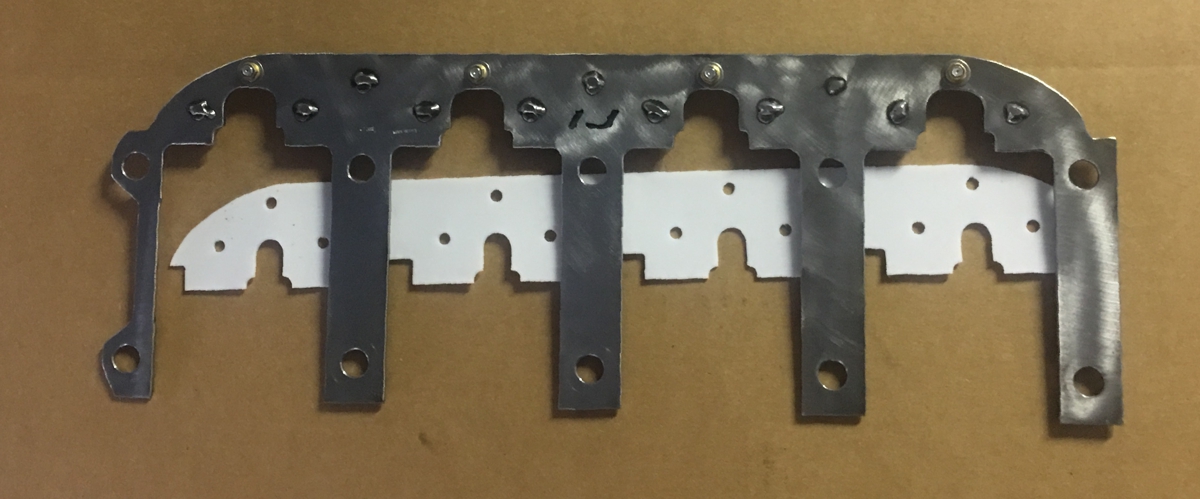 ~~~~~~~~~~~~~~~~~~~~~~~~~~~~~~~~~~~~~~~~~~~~~~~~~~~~~~~
What is a narrow block?
The narrow block was designed first and is used in a number of applications. If the vehicle you obtained the engine from has AWD then it is almost certain you have a narrow block -- the narrow block allows greater room for the transaxle.
Here are some pictures to help you determine what block you have:
Narrow: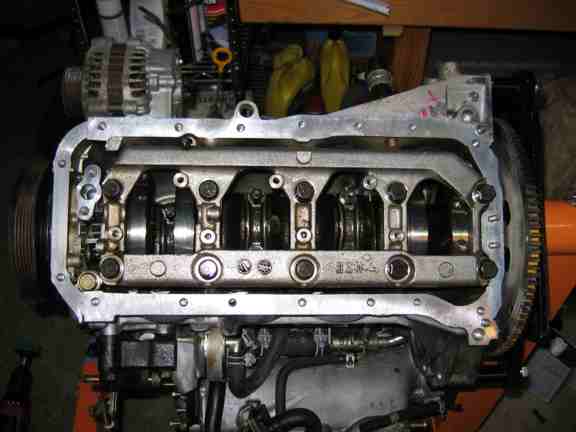 Wide: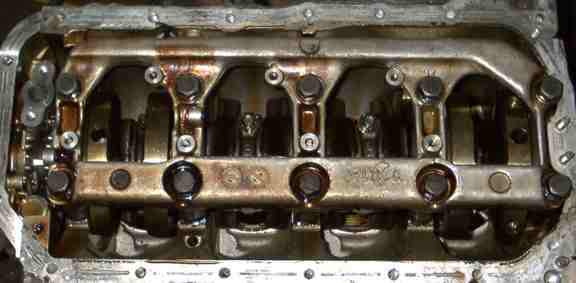 ~~~~~~~~~~~~~~~~~~~~~~~~~~~~~~~~~~~~~~~~~~~
Now, in both the narrow or wide engines, if you have a girdle, it is possible to have a louvered, directional-screened, windage tray that bolts into the girdle. (This part replaces the factory louvered pan baffle in the same area.)
Both layers nestle within the existing main bearing girdle and attach to the existing mounting points for the factory louvered pan baffles. The layer closest to the rotating assembly has two scraper louvers for each of the first three piston bays. They are chisel edged with the second larger louvers being relief cut so that it follows the contour of the factory rods and counterweights (other rods can simply be adjusted for by grinding). The louvers can be bent down or up to get very close tolerance fits. The last piston bay has a single louver that is bolted to the scraper. It is made to be removable so that it can be more easily adjusted.
This part costs $169.95. Please specify if you want the full tray (4 bay full coverage) or three bay and partial fourth bay coverage. Both versions include the aluminum plate to modify the upper sump, if desired. [Why would I want to modify the upper sump? -- see below]
Here are some pictures of the windage tray:
The picture below is from the interior of the girdle.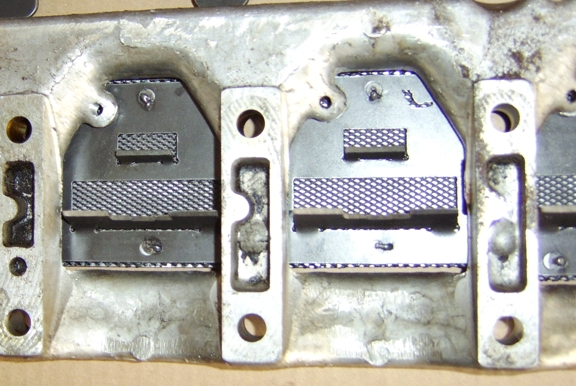 ... from the top of the girdle.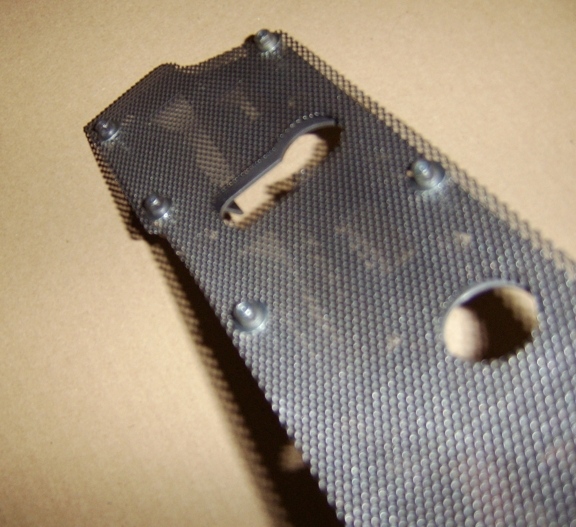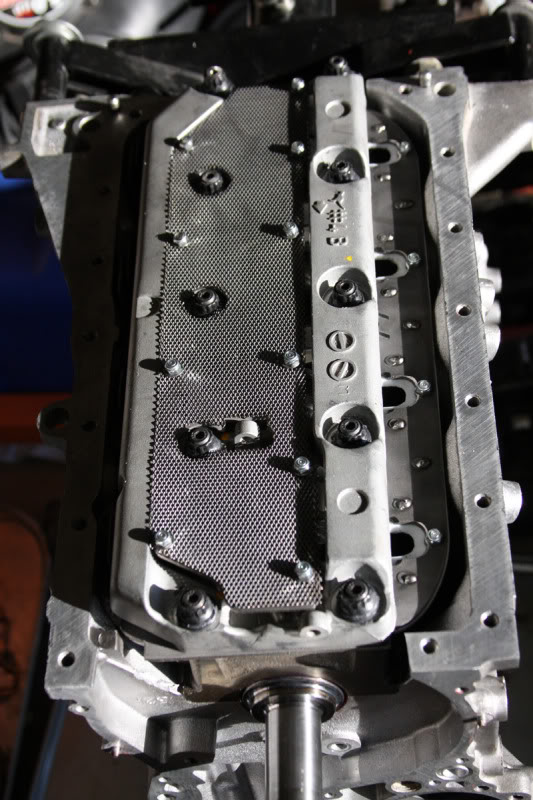 Above and below: full windage tray with 4th bay coverage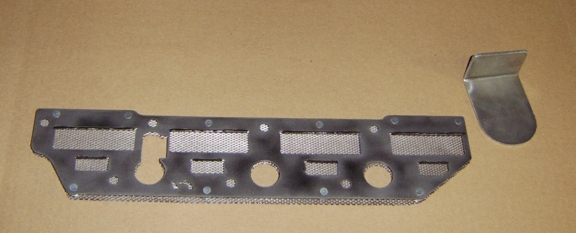 ~~~~~~~~~~~~~~~~~~~~~~~~~~~~~~~~~~~~~~~~~~~
There is an option with the girdle scraper (mentioned above)...
The flow of air in the fourth piston bay is highly obstructed by a cylindrical indentation in the stock sump. This indentation is designed to allow access to torque converter bolts. It is highly desirable to remove this inward facing bulge if you are running a manual transmission. This means you will have to take the sump into a welding shop that is experienced with working on alloy automobile parts this large.
Bulge: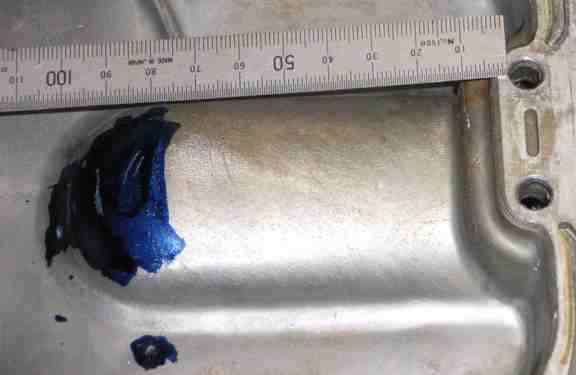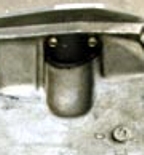 Example of a removed bulge: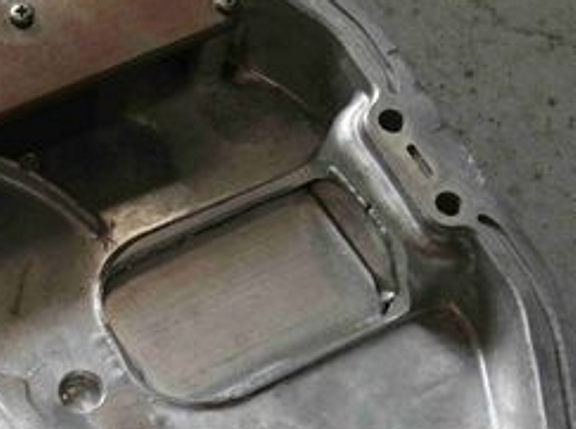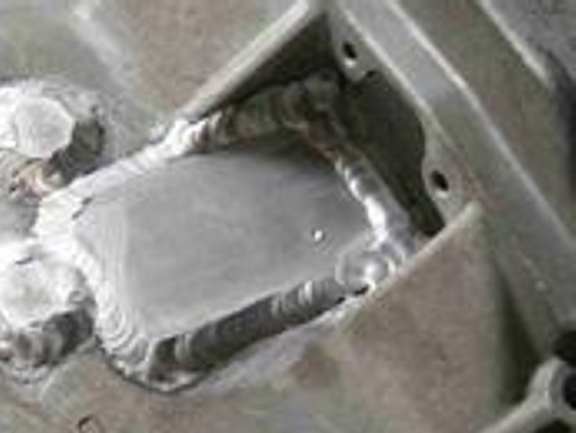 Another example: