Copyright 2002-2022 © All rights are reserved on our product designs.
Important Notice for VW diesel engine owners: Many of the patterns below that are for gasoline/petrol engines also fit diesel engines using the same basic oil pan design/outline. The strokes may be different but that is not a big issue. Just look at the outline of your pan and then contact us with your particular engine size and code. Thanks!
Please, when you place an order for your engine please tell us whether you have an oil pan with the general outline of A or B in the picture below. We have patterns for both designs.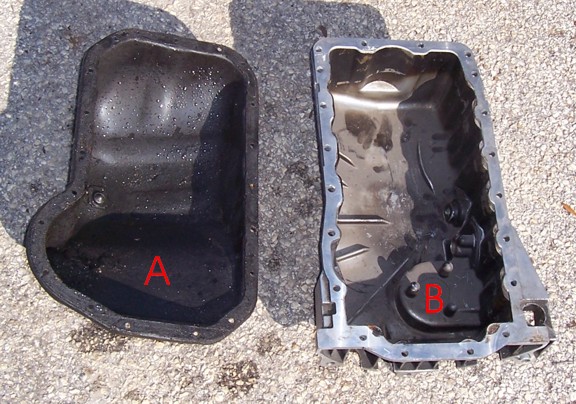 L4: 1.5 (1457cc 73mm stroke), 1.5 & 1.6 (80mm stoke), 1.7 & 1.8 (86.5mm stroke), and the 2.0 (92.8mm stroke), 1.8T with reluctor ring on crank, 2.0 with reluctor ring on crank Now a dual scraper design that works on the up and downstroke! $94.95
Race track results of the use of our scraper by Mark Coffin...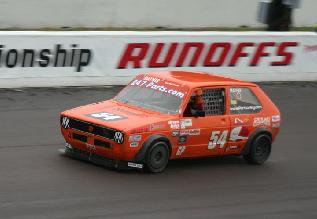 SCCA Image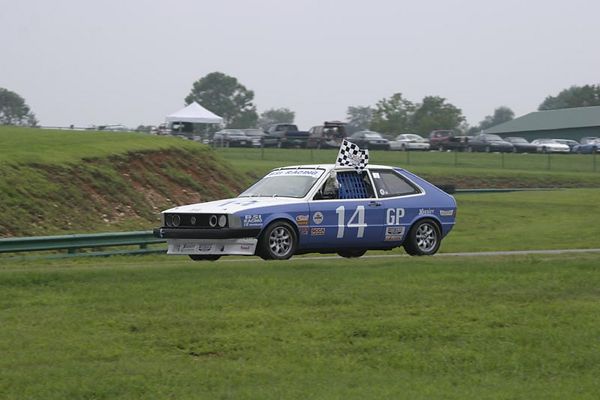 Above: Teflon® version for the 2.0 "A" style block (other displacements available) -- it is also shown with the factory ABA windage tray which is an excellent piece that we recommend using as well. The scraper is designed to work in concert with it. [These pieces are now dual scraper designs as well] This basic design also fits many diesel engines. $224.95
If you have an application that cannot handle the 2-3mm additional thickness of the ABA style windage tray we can modify the tray to attach directly to the scraper frame. Shown here on the AEB ("A" style) dual scraper. These modifications cost $109.95 in addition to the cost of the tray (you can supply this, of course).
Dual scraper for the "B" pan style block, various TDI engines, late 1.8T, 2.0 -- many different strokes. This scraper includes a center baffle to help segregate bays 1-2 from 3-4; it works in harmony with the stock windage tray: $149.95
Typical installation:

Dual scraper for the AEA style block, 1.0, 1.3, 1.4 or 1.6 -- only $94.95
Please specify which engine as the strokes are different.
The picture below shows a typical AEA style bottom end:

VR6: Updated design has been tested on early and late version of the blocks used in these engines. $79.95
Volkswagen R32 (VR6) scraper
The design is a dual plane -- the attachment points and counterweight scrapers are left the same. The second plane has the scraper for the rods at a lower level which lets it intersect the path of the rods at a larger effective swept diameter thus allowing for the stroke increase. The dual plane design unfortunately takes substantially longer to fabricate over the stock stroke VR6: $99.95