Copyright 2002-2023 © All rights are reserved on our product designs.
For Pontiac Super Duty racing four cylinder engines, please see the GM Iron Duke entry.
V8: 326, 350, 389, 400
The Pontiac V8 scraper is now a dual scraper design that works on both the downstroke and upstroke of the engine! $94.95

This is a picture of the dual scraper that works on the downstroke.
Pontiac 455 4-bolt main Teflon® crank scraper $224.95
This design is available for other strokes and custom cranks.

The pictures below show the first test pattern installed on the engine. You should use the scraper in combination with the factory windage tray as it was designed to work with it:
Please enquire as to specific mods that will enhance how the stock and aftermarket tray work with the scraper set.
Congratulations Bill Edgeworth:current NHRA record holder for L/SA at -1.49 under the index !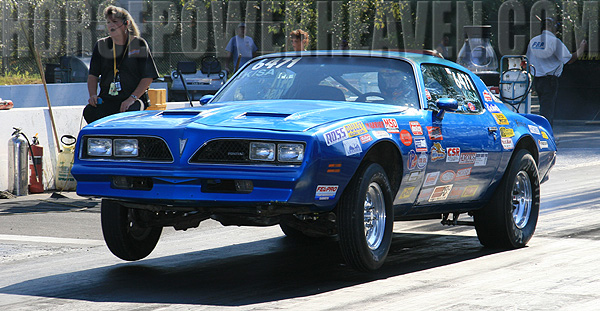 Our scrapers are seen in December 2007 High Performance Pontiac magazine, "Revenge of the 350". Engine build by Ken "Ace" Brewer from Pacific Performance Racing. Article and photograph by Steve Magnante.